23 Feb 2011 | Traction TeamPage customers Alcoa and Ensign Bickford featured in Deloitte "Social Software for Business Performance" report

Traction® TeamPage customers Alcoa Fastening Systems and Ensign Bickford Aerospace & Defense are featured in this independent Deloitte research report: Social Software for Business Performance (.pdf) - The missing link in social software: Measurable Business improvements by John Hagel III of the Deloitte Center for the Edge. See video interview with John Hagel and a Web version of the report, Metrics that Matter, published by Deloitte University Press.
"The paper highlights the experience of one early adopter, Alcoa Fastening Systems, which has significantly improved employee productivity -- achieving a 61 percent reduction in time required for compliance activities -- by leveraging social [Traction TeamPage] software tools." - Deloitte 23 Feb 2011 press release.
This graphic explains the very direct impact between the reduced time spent on compliance activities as the number of wiki pages were created in TeamPage.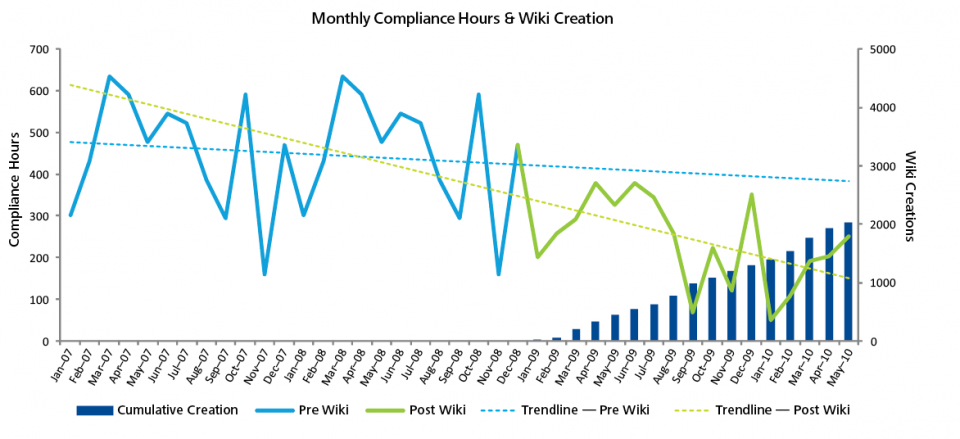 The Deloitte summary states: "Senior executives are skeptical of the value of social software. Their reluctance is understandable but self-defeating." Deloitte Center for the Edge's paper, "Social Software for Business Performance" discusses how companies "can leverage social software to significantly enhance business performance in the short-term and transform it in the long-term. Early adopters of social software have the potential to reap financial rewards and develop skills and experience that can help build a stronger competitive position over time. Social software has unique capabilities to address current operating challenges and improve operating metrics." » Download a free copy (.pdf) of the Deloitte report. » Read the Deloitte press release.
Customer quotes from the Deloitte report include:
"Traction® Software is the place where informal work gets done."
"With Traction Software I can post meeting notes and assign action items to individuals. Then, they can go into the tool and write comments to update the group on the status of their action items as well as post deliverables. It greatly increases transparency and streamlines communications."
"What sold me on Traction Software is I realized how it can help me do my job better. Traction helps me get work done faster and allows me to communicate more effectively with my colleagues."
"With Traction, people take ownership for their area of expertise on the tool. They provide help to other projects if they have the knowledge needed to contribute."
"With Traction, people are pulled in to solve problems based on their expertise on short notice. Before Traction, we simply weren't able to do this."
"Traction has increased transparency around resource allocation and made it easier for managers to find the expertise they need quickly."
See TeamPage Solutions: Quality Management and TeamPage Solutions: Project Management
Related
Traction TeamPage 5.1: Social Software, Meet Project Management
Traction Software Customer Stories and quotes
3 Aug 2011 | Alcoa Fastening Systems: What were you doing at 7:15AM Saturday July 2, 2011? Joe Crumpler was working.
Enterprise 2.0 and Observable Work: Brian Tullis and Joe Crumpler, Burton Group Catalyst 2010 Santa Diego
Tweet